This evening I took a look at heraldist Fr. Guy Selvester's blog Exarandorum, which shows examples of heraldry in the coats of arms of bishops, parishes, and dioceses.
To start with, the posts tagged with the label "Bad Heraldry" are particularly educational for an uninstructed person such as myself, and some are a bit amusing.  They remind me of the classic site "Web Pages That Suck", which helped readers learn good design by looking at examples of bad design.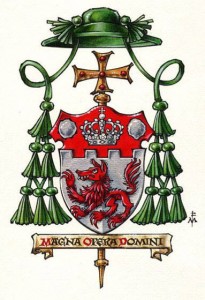 The most recent posting by Fr. Selvester is not a case of Bad anything. It is the noted artist Marco Foppoli's rendering of a new coat of arms for Bishop-elect Steven Lopes. He was recently appointed by Pope Francis to lead the Personal Ordinariate of the Chair of St. Peter, the diocese-like structure for Catholics of Anglican heritage in the United States.
It took me a minute or so to get the symbols: the wolf for the surname, because "Lopes" (a Portuguese name) is derived from Latin lupus; and the crown for his Christian name Steven, since a crown is a stephanos in Greek. A tidy use of symbols!
Are there any readers with an interest in heraldry who could tell me what are the objects to the left and right of the crown?
While Bishop-elect Lopes is a worthy candidate for the office, I do think that some bishops ought to depict a wolf on their coats of arms, whether it's historically justified or not, just as a matter of Truth In Labeling.