The posh Montreal borough of Outremont is dealing with noise complaints against the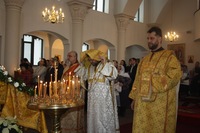 Hasidic community by forbidding all outdoor processions — thereby suppressing religious freedom across the board. Next Sunday the Russian Orthodox cathedral in the city will be denied the freedom to carry out its midnight Easter liturgy, which starts with a procession around the church.
Report from Radio Canada International.