Back in 2002, when this was a brand new blog, I wisecracked about a group of lay people with the ambitious project of building an enormous monument in honor of Our Lady's Immaculate Heart, in the form of a triumphal arch in Buffalo, overlooking Lake Erie.
This was the design concept they were working with at the time: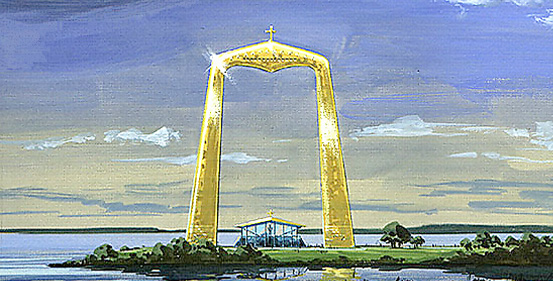 I suggested they expand on the theme: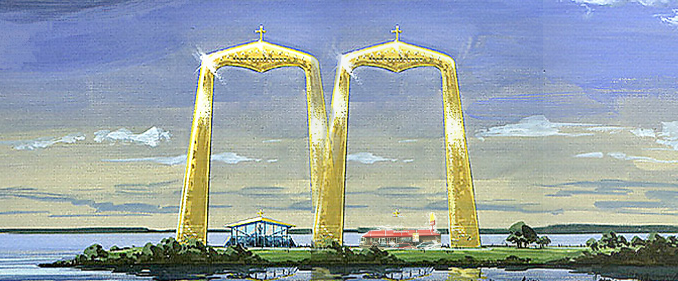 But nobody's called to thank me for my contribution to the effort. '
Anyway, they're still working, and they've reworked the design.
I'm afraid it's still not very appealing; it's weirdly futuristic and geometrical. The stark structure rising up at the end of a promontory doesn't look welcoming; it doesn't have the gentleness, delicacy, or stateliness suitable to a Marian shrine. It's a blunt object -- well, actually it's round-ended -- and really rather masculine in form. The only sign of motherhood in it is the use of abstract-looking egg-like ovals.
As for the structure at the base of the arch, that looks more like a shrine cafeteria than an actual shrine: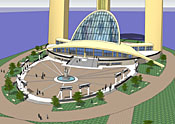 And I have to wonder -- is this to be built on reclaimed land? Putting a 700-foot monument on landfill might lead to some engineering problems.
But I'm not a pro about this. Maybe someone with actual knowledge of architecture could look at these concepts and comment more insightfully.