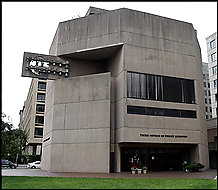 (photo credit: Washington Post)

Congratulations to the Third Church of Christ (Scientist) in Washington, D.C.

It's gotta be tough belonging to the Christian Science church; it has very high demands of faith, it's shrinking numerically (I remember reading that 75% of the members were elderly urban ladies), and it's got buildings way too big for its present congregations.

For example, this ugly box on 16th Street in D.C. was built in 1971, and when it became too expensive to maintain -- the congregation has been running a 20% deficit on its budget for several years -- they wanted to tear it down and replace it. All reasonable enough.

But the Third Church actually had to fight the city's Historic Preservation board and the D.C. Preservation League for eighteen years to get the right to tear it down, ever since the building was a mere 20 years old. The preservationists considered this example of architectural Brutalism -- concrete buildings in blunt geometrical forms -- of Great Historic Value.

Which makes sense, if you want to preserve a record of 1960s human folly. Just for aesthetic reasons, I'd be happy to buy a raffle ticket to win the right to push the demolition button on it.

The congregation finally won city approval to remove it and start over, so best wishes to them: I'm sure they'll replace it with something more attractive, which will be good for the neighborhood near the White House.