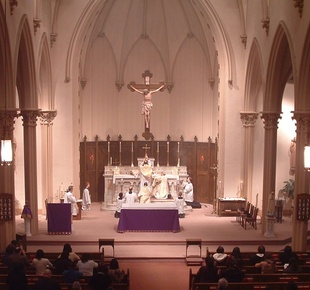 Since our blog neighbor Fr. Jeffrey Keyes, C.PP.S. of Rifugio San Gaspare was giving a mission in Connecticut this week, and because the parish hosting him offered a Solemn Mass for St. Joseph's feast day, there were two beautiful reasons to visit St. Mary's Church in Norwalk on Thursday.
In an excess of optimism, Fr. Keyes handed me his fancy camera with a huge telephoto lens shortly before the Mass began, but I took only a few pictures, using my own little apparatus instead of his, as I have a policy against trying to operate cameras that weigh more than my head. If any more of the snaps are usable, I'll post them here or he'll post them on his blog; we'll work something out.
Update: The rest of the photos from the day (including a few snapshots from my phone) are on Facebook.