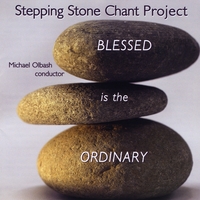 I've been talking about this chant recording for some time, and now you can hear it too.
My pal Michael Olbash directed it -- you know, the guy who directed the music for Magnificat magazine's "Pilgrimage" conference -- and the CD has just come out, so follow the link over to CD Baby to find out more.
In this album, the Stepping Stone Chant Project (named for the property where we made the recording) isn't singing music for Easter or Christmas or Pentecost or any prominent day. It's some nondescript N'th Sunday of the church year.
And that ties in to Michael's point: the Church wants us to have music this beautiful on ordinary Sundays. Music directors can train their choirs to sing this sort of chant, which is fitting for the Mass at any time of year. It's not just something to do in Advent or Lent.
So listen to the lovely sound samples on the CD Baby page -- yes, I'm in there, discreetly in the mix -- and yes, you should get one for your pastor too.