Fr. Jeff Keyes of the Rifugio San Gaspare blog is vacationing in Connecticut this week, and Fr. Mark Kirby, author of Vultus Christi, is back in the States after his time in Rome, so we three met today for Mass at the Benedictine convent where Fr. Mark serves as chaplain.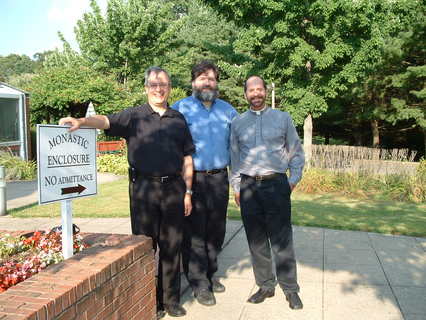 We sang the Gregorian ordinary (Mass XII), and a couple of the propers for the martyrs SS. Pontian and Hippolytus: the beautiful introit Salus autem and the Alleluia Te martyrum. The Sisters and the lay congregation did a fine job of singing the ordinary parts and even the tune of the Alleluia -- a tune which you may hear for yourself this week, since it is also used in the Mass of Assumption Day.
Fr. Mark's homily reminded us of Pope Pontian and the priest Hippolytus, who became his opponent and even fell into schism; yet when the Empire swept both of them into exile and hard labor, Hippolytus was reconciled with the Church and died a martyr as did Pontian: it is an encouraging example of the triumph of Christ's love over division, and a proof that "even dissidents can be converted".
Here are a couple of snapshots from the Mass: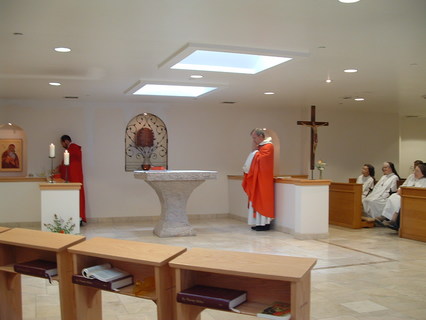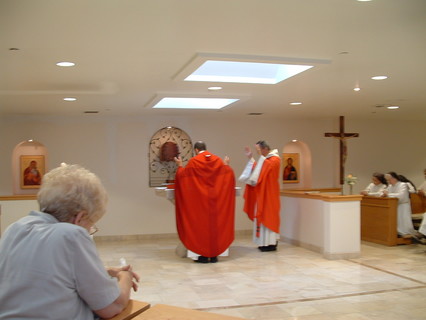 After Mass, we had lunch at an Italian caffe in New Haven, chatted there for most of the afternoon, and attended Vespers at the Dominican nuns' monastery in North Guilford.
As always, it was a joy to enter into the company of two such faithful men of God.